Core Tri-Core® Comfort Zone Pillow
The Tri-Core® Comfort Zone Pillow, featuring Outlast® Technology, helps regulate temperatures by absorbing heat when you're too warm and releasing heat when you're cold. Outlast was developed by NASA to help protect astronauts from temperature fluctuations, and now you can use that technology to get a better night's sleep!
In addition to helping regulate your temperature, the Tri-Core Comfort Zone Pillow also helps provide proper alignment of the neck. For back sleeping, a firm cervical roll supports the neck while a shaped center gently cradles the head for better sleep. For side sleeping, the raised side areas help keep the head level for proper alignment of the spine.
To provide therapeutic benefits and help restore the natural curve of the neck, two very firm cervical rolls provide different support options. Use the larger neck roll for maximum support. Use the smaller neck roll if you are in the adjustment phase or if you prefer slightly less support. For those who are new to sleeping on a cervical support pillow, or prefer gentle support, the "Gentle" version may be a better option.
It may take some time to adjust to this cervical pillow and immediate overuse can increase neck pain. Those who slowly ease their way into orthopedic correction, by alternating between this pillow and their current pillow, achieve the best results. The gentle version provides moderate to firm support, while the standard version provides very firm support.
The Tri-Core Comfort Zone Pillow is available in two sizes and conveniently fits into your favorite standard pillowcase. Made in the USA.
Full Size Pillow: 24" x 16" (61cm x 40.5cm)
Mid-size Pillow: 22" x 15" (56cm x 38cm)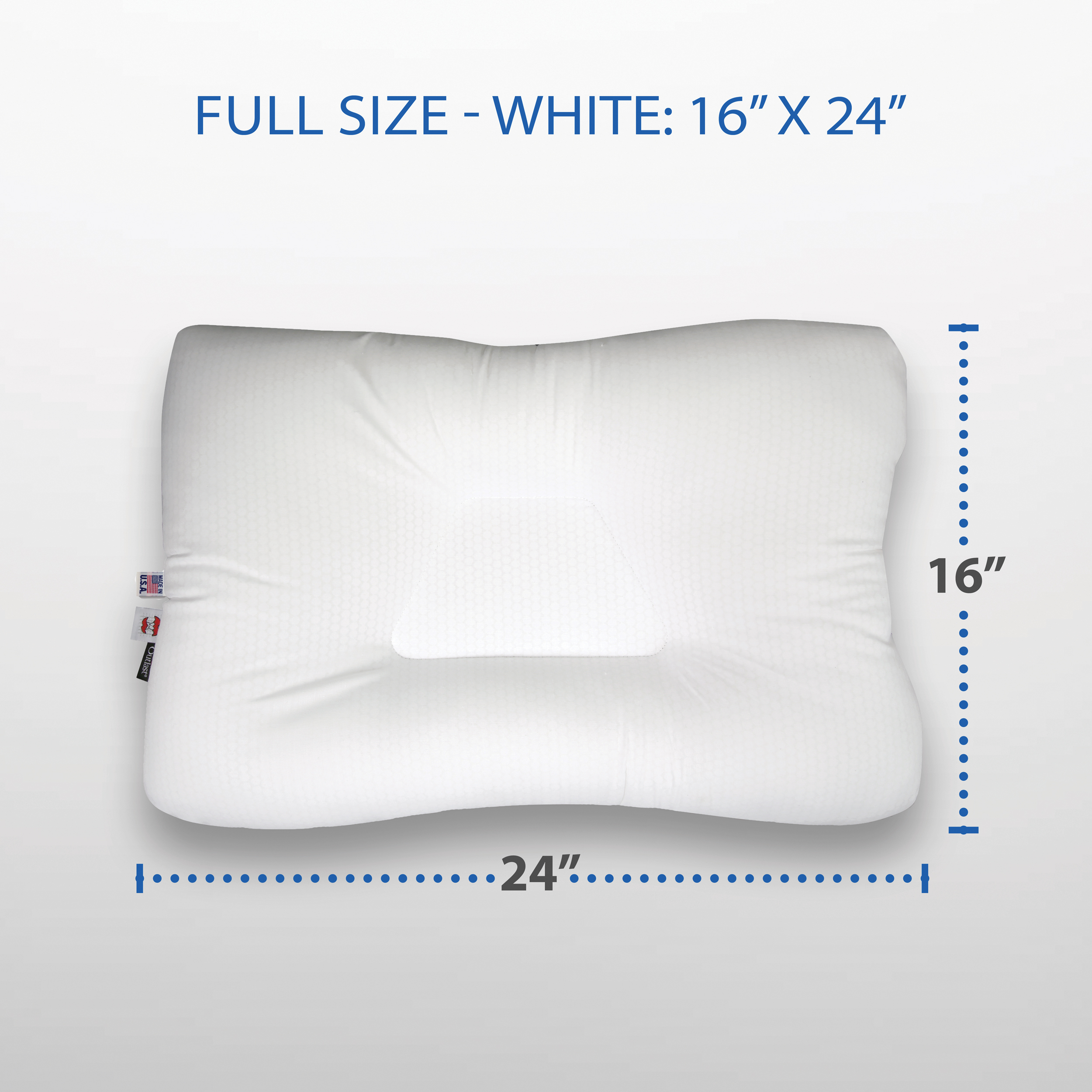 Full Size
Materials:
Polyester, cotton, polyester fill, polyester with an acrylic coating
Product Dimensions:
24 x 16 x 5 inches, 61 x 41 x 13 centimeters
Product Weight: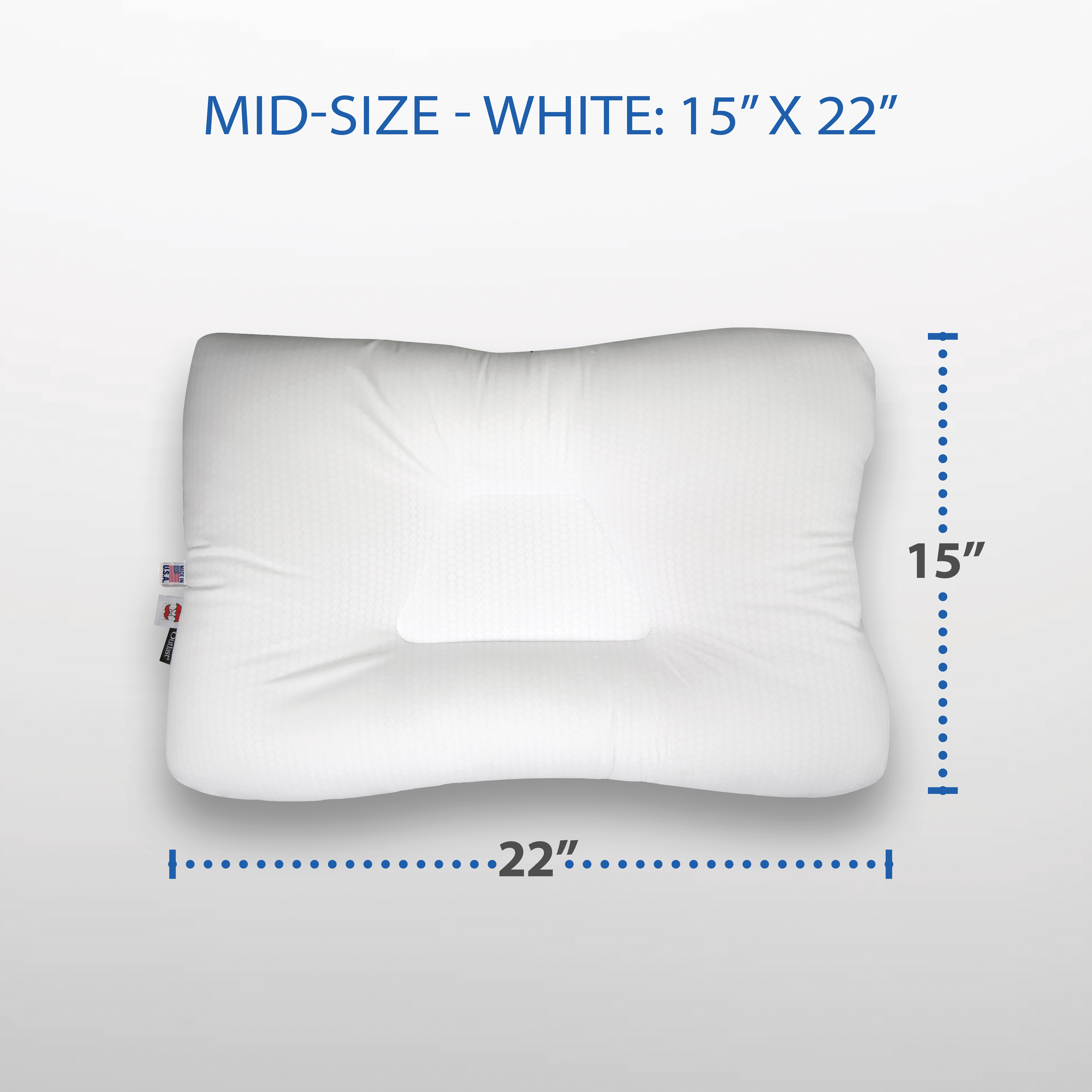 Mid-size
Materials:
Polyester, cotton, polyester fill, polyester with an acrylic coating
Product Dimensions:
22 x 15 x 4 inches, 56 x 38 x 10 centimeters
Product Weight:
Color: White
Firmness: Standard/Firm Only
Latex: This product is not made with natural rubber latex
Product Origin: Made in USA
Tri-Core Comfort Zone Pillow
What you need to know about Orthopedic Pillows
How to Adjust Neck Roll Support in Tri-Core
Cura360 Return Policy
Most products featured on Cura360.com can be returned within 30-60 days of purchase depending on the manufacturer.
Generally, you can expect a credit or refund, less a restocking and handling fee, in the same form of payment originally used for purchase within 30 days of our receiving your returned product back; complete, in good, unused condition, with original packaging material. You will be refunded the purchase price, EXCLUDING the shipping cost and the restocking fee.
All returns must be in new, saleable condition with original packing material
Shipping costs are not reimbursable
Most manufacturers have a restocking fee, typically this is 25%, though this will vary from manufacturer to manufacturer.
Some items are not returnable due to sanitary reasons such as cushions, or, on occasion, due to extremely high shipping costs back to the vendor.
For specific return information on a specific product, please contact Cura360 Inc.
All returns must first contact our Customer Service Department, please email customerservice@cura360.com or call 833-207-3433 for Approval. Returns will not be accepted without contacting Cura360 first.
Warranty
All of our products are warranted against defects in materials and workmanship for 1 year. This warranty period is longer for several products, see product page for details. If you have further warranty questions, please contact customer service.