Core Thermal Core Moist Heat Pack
Thermal Core® Moist Heat Packs deliver deep, penetrating moist heat therapy to help relax sore muscles prior to professional treatment. The packs are available in various sizes for use on backs, necks, and other extremities to help relieve muscle soreness, sprains, or arthritis pain.
Each pack contains all-natural bentonite fill that absorbs moisture and retains heat more effectively than conventional heat packs. Made with a strong, durable canvas material, these packs deliver up to 30 minutes of deep, soothing relief and can be reheated as needed. Thermal Core Moist Heat Packs have been engineered to prevent the growth of mildew and can be reused many times, making these packs a cost-effective treatment method.
Convenient, color-coded tabs provide a visual indicator for pack rotation and make packs easy to handle.
One Year Warranty
Helps relax sore muscles prior to treatment
Convenient color-coded tabs for easy handling
Covers are available to control heat intensity
Temperature: Moist Heat
Use with Towel Between Pack & Skin
Temperature Release: Slow Steady
Penetrating moist heat therapy for sore muscles
Convenient colored tabs for pack rotation
Strong, durable canvas helps prevent leaks
For professional use only
Thermal Core Moist Heat Packs
Standard Moist Heat Pack 10x12 - ACC500
Half Pack Moist Heat Pack 5x12 - ACC504
Spinal Moist Heat Pack 10x18 - ACC503
Specifications
Standard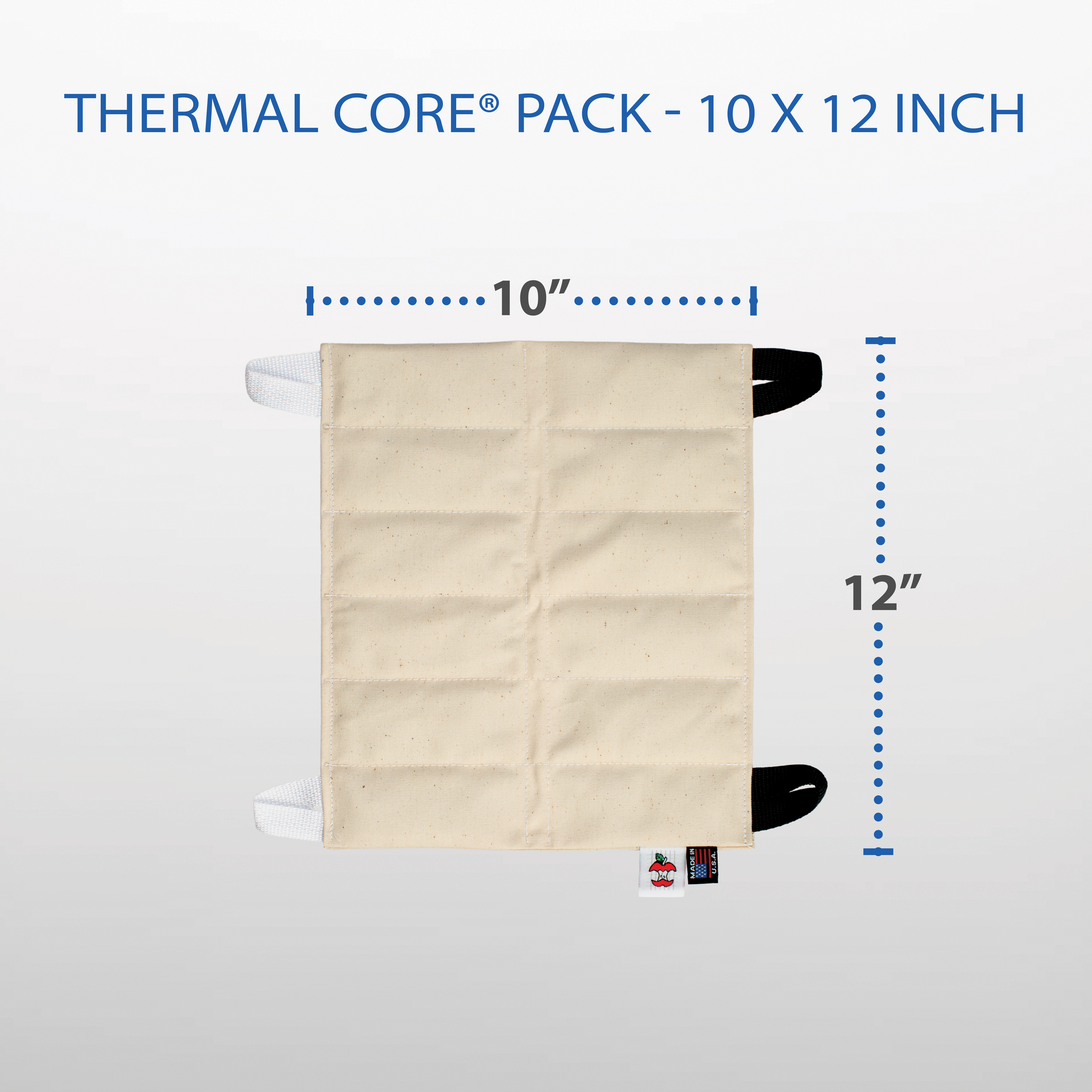 Product Size:
Standard - 10 x 12 in, 25 x 30 cm
Product Weight:
Color: Cream
Cervical
Product Size:
Cervical - 6 x 24 in, 15 x 61 cm
Product Weight:
Color: Cream
Over-Size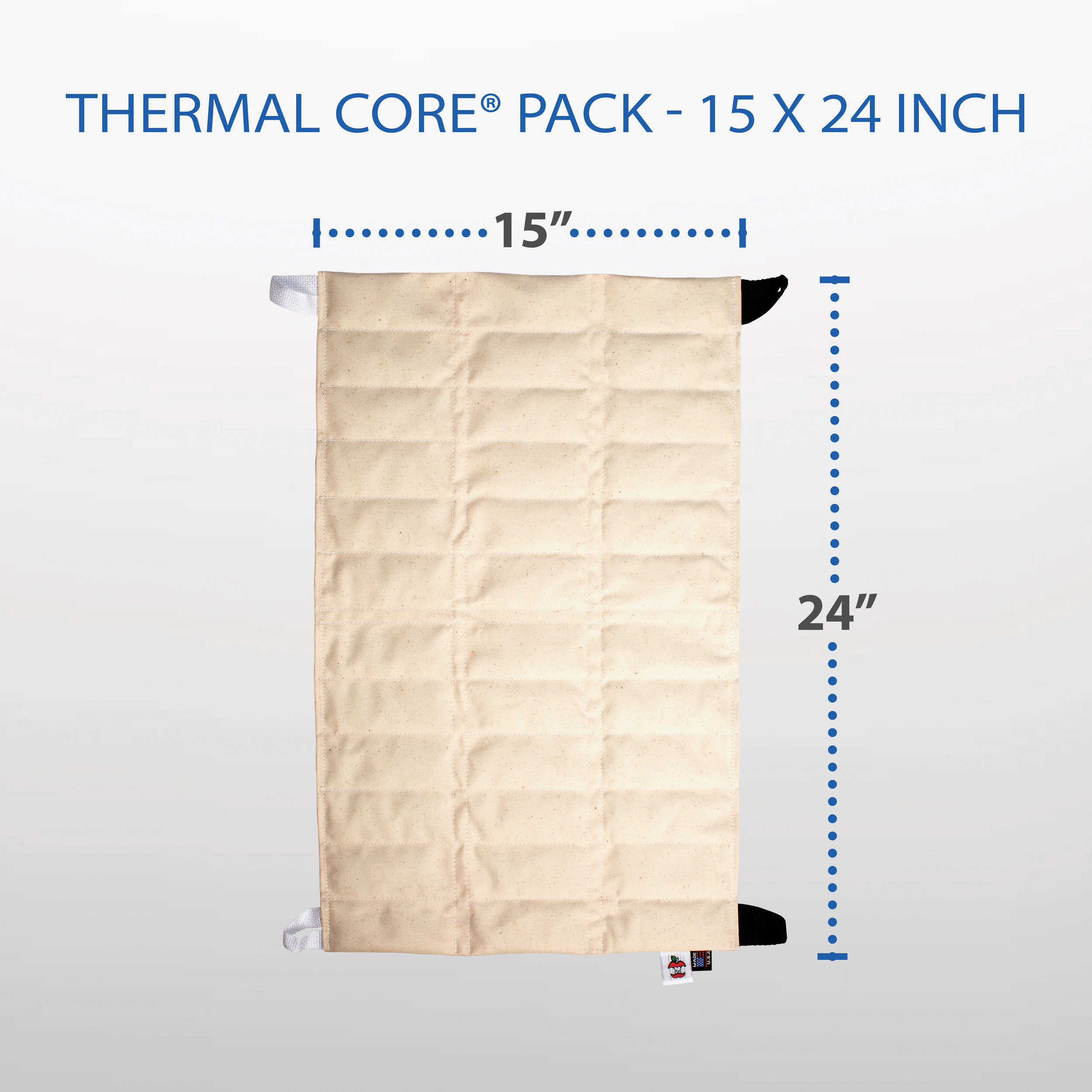 Product Size:
Over-Size - 15 x 24 in, 60 x 38 cm
Product Weight:
Color: Cream
Spinal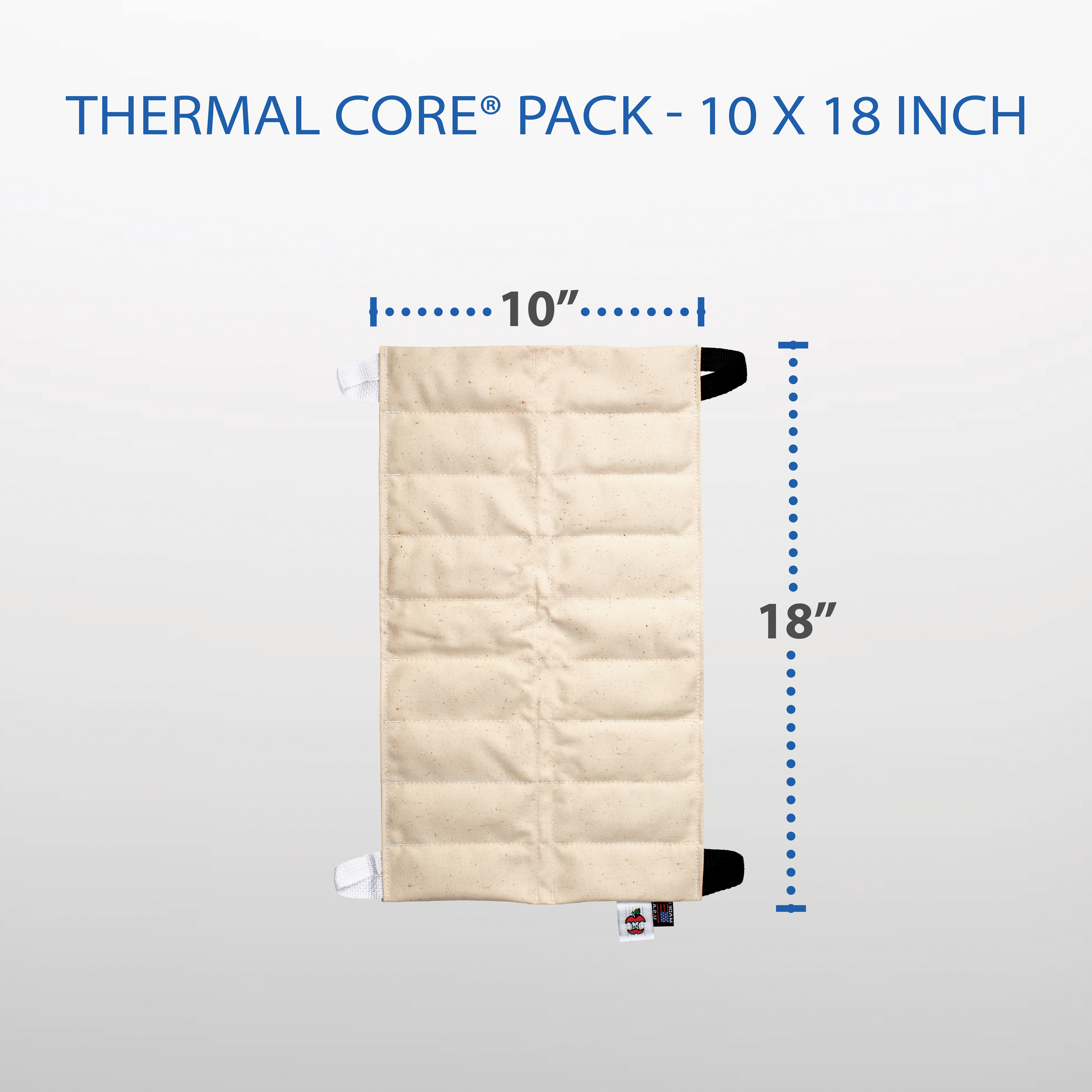 Materials:
Non-toxic filled, bentonite clay
Product Size:
Spinal - 10 x 18 in, 25 x 46 cm
Product Weight:
Color: Cream
Half-Size
Materials:
Non-toxic filled, bentonite clay
Product Size:
Half-Size - 5 x 12 in, 13 x 30 cm
Product Weight:
Color: Cream
Latex: This product is not made with natural rubber latex
Product Origin: Made in USA
Cura360 Return Policy
Most products featured on Cura360.com can be returned within 30-60 days of purchase depending on the manufacturer.
Generally, you can expect a credit or refund, less a restocking and handling fee, in the same form of payment originally used for purchase within 30 days of our receiving your returned product back; complete, in good, unused condition, with original packaging material. You will be refunded the purchase price, EXCLUDING the shipping cost and the restocking fee.
All returns must be in new, saleable condition with original packing material
Shipping costs are not reimbursable
Most manufacturers have a restocking fee, typically this is 25%, though this will vary from manufacturer to manufacturer.
Some items are not returnable due to sanitary reasons such as cushions, or, on occasion, due to extremely high shipping costs back to the vendor.
For specific return information on a specific product, please contact Cura360 Inc.
All returns must first contact our Customer Service Department, please email customerservice@cura360.com or call 833-207-3433 for Approval. Returns will not be accepted without contacting Cura360 first.
Warranty
All of our products are warranted against defects in materials and workmanship for 1 year. This warranty period is longer for several products, see product page for details. If you have further warranty questions, please contact customer service.