Core Swede-O Thermal Vent Open Wrap Hinged Knee Brace
Swede-O® Thermal Vent® Open Wrap Hinged Knee Brace provides stability, comfortable support, gentle compression, and heat therapy to help relieve knee pain and promote healing. The removable polycentric hinges provide medial and lateral stability and a stop at 0° to help prevent hyperextension of the knee. This product is anatomically designed for rotary instability of the knee, secondary to cruciate injuries and deficiencies.

The front opening does not cause pressure across the patella which helps prevent aggravation to injuries and helps reduce tenderness and bruising. Popliteal cut-out helps increase comfort and reduces material bunching during knee flexion. The adjustable closures provide a customized fit and allow for variations due to swelling while the wraparound straps help prevent brace migration. This brace contours to the natural shape of the knee for comfort; the bilateral design fits the right or left knee.

Thermal Vent: Engineered with MVT²

Thermal Vent Supports are a valuable aid to help rehabilitate injured tissue. These products provide warmth and heat therapy to help increase the pliability and elasticity of muscles and tendons making them more responsive to therapy and exercise.

The layered thermal lining features a soft, nylon material that wicks away moisture and a micro-ventilated, breathable membrane that captures and retains your natural body heat to ease the pain. This allows moist air to escape keeping the skin comfortable. With unsurpassed quality, these supports provide gentle compression and warmth to help reduce swelling and associated pain as well as promote recovery.
Closure System: Wrap Around with Hook and Loop
Support: Metal Hinges
Open Patella with Popiteal Cutout
Hinges provide knee stability
Helps prevent hyperextension of the knee
Wraparound straps help prevent brace migration
Specifications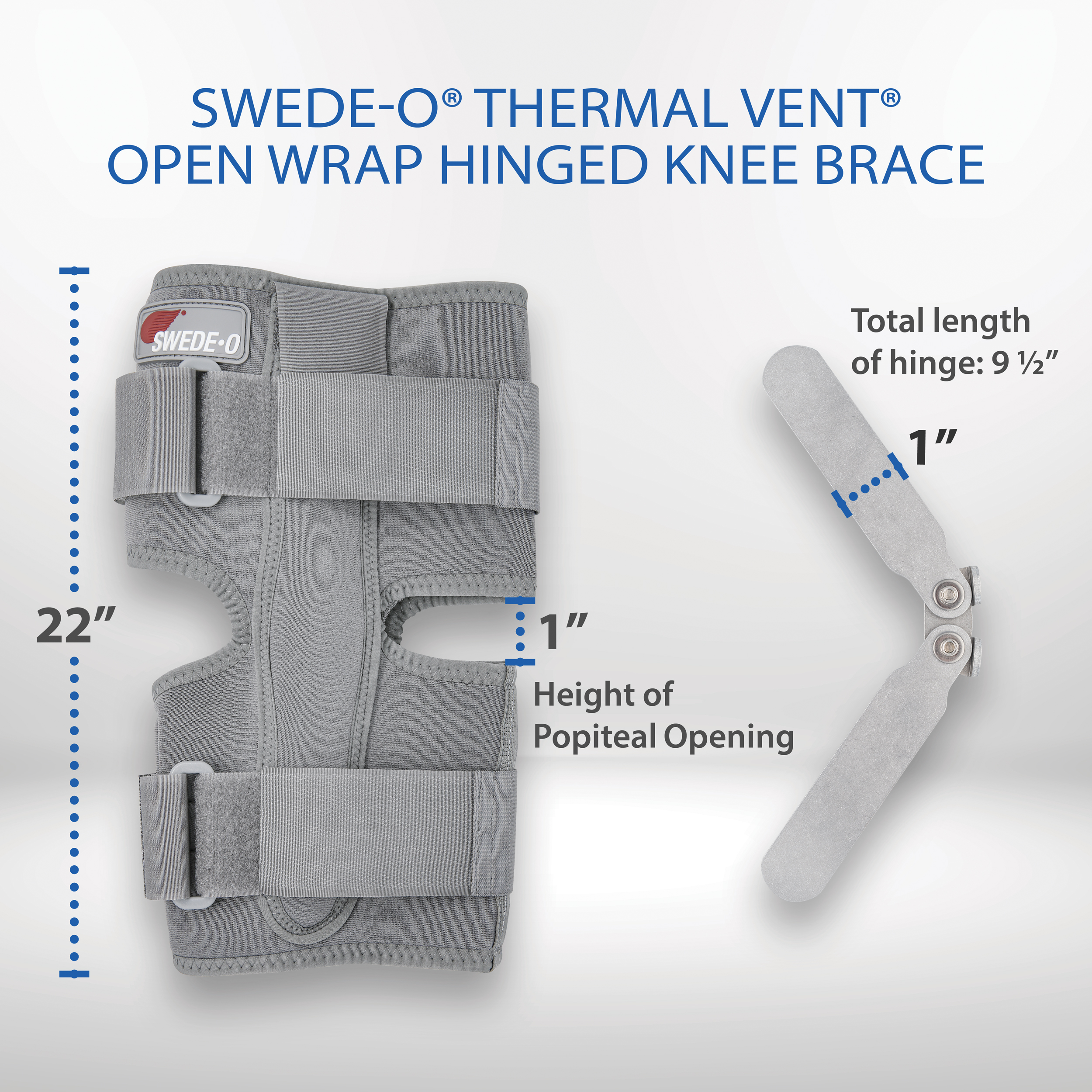 Materials:
Product Size:
Small - 11.5 x 18.5 in, 29.2 x 47 cm
Medium - 11.5 x 19.5 in, 29.2 x 49.5 cm
Large - 11.5 x 20.5 in, 29.2 x 52.1 cm
X Large - 11.5 x 22 in, 29.2 x 55.9 cm
2X Large - 11.25 x 22 in, 28.6 x 55.9 cm
3X Large - 11.5 x 23.5 in, 29.2 x 59.7 cm
4X Large - 11.75 x 24 in, 29.8 x 61 cm
5X Large - 11.5 x 26 in, 29.2 x 66 cm
Product Weight:
Color: Gray
Latex: This product is not made with natural rubber latex
Product Origin: Made in China
Cura360 Return Policy
Most products featured on Cura360.com can be returned within 30-60 days of purchase depending on the manufacturer.
Generally, you can expect a credit or refund, less a restocking and handling fee, in the same form of payment originally used for purchase within 30 days of our receiving your returned product back; complete, in good, unused condition, with original packaging material. You will be refunded the purchase price, EXCLUDING the shipping cost and the restocking fee.
All returns must be in new, saleable condition with original packing material
Shipping costs are not reimbursable
Most manufacturers have a restocking fee, typically this is 25%, though this will vary from manufacturer to manufacturer.
Some items are not returnable due to sanitary reasons such as cushions, or, on occasion, due to extremely high shipping costs back to the vendor.
For specific return information on a specific product, please contact Cura360 Inc.
All returns must first contact our Customer Service Department, please email customerservice@cura360.com or call 833-207-3433 for Approval. Returns will not be accepted without contacting Cura360 first.
Warranty
All of our products are warranted against defects in materials and workmanship for 1 year. This warranty period is longer for several products, see product page for details. If you have further warranty questions, please contact customer service.